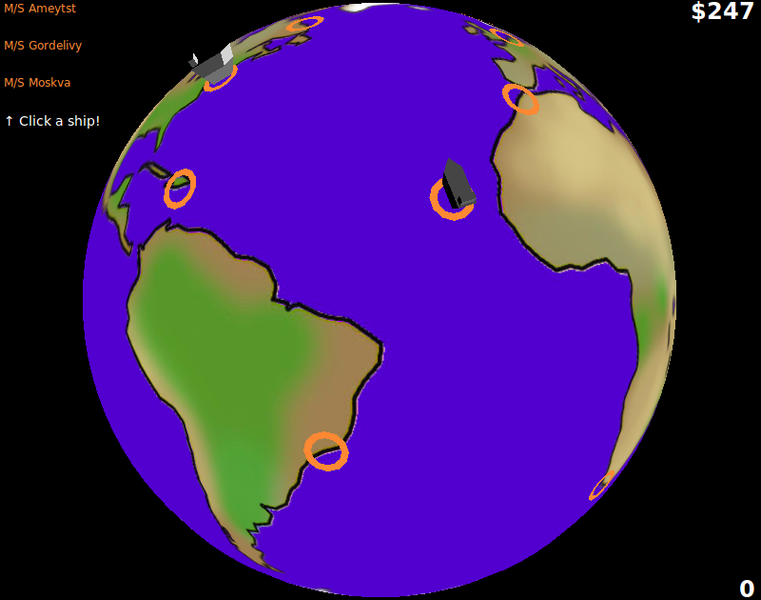 Last weekend, I took part in the the 48 hour online game competition Ludum Dare.
The result of the theme voting was announced at 3 a.m. Saturday morning (Swedish time). I spent the morning without working on the game, but thinking a little about the theme, which was tiny world. My first idea, and the one I went for, was a cross between two old games: Ports of Call and Elite. Ports of Call because it would be about shipping cargo across the world, and Elite because of the trading aspect, coupled with real-time driving of the vessels. In the end, it turned out less like a strategy game and more like a driving game compared to my original idea. All for the better, I think.
The competition entry can be played online.
I spent most of the time working on the game at different cafés in Stockholm. Two friends joined, so we could work on our respective games while chatting and drinking coffee.
I posted about the technology I was going to use on the Ludum Dare site, and those are the tools I actually ended up using, so I actually made an HTML/JavaScript/WebGL based game instead of chickening out and using proved technology.
Let me tell you a bit about the tools:
Some lessons learned:
HTML text elements on top of WebGL canvas drastically reduced performance. In Chrome, using requestAnimationFrame helped, but not in Firefox.

It is possible to play sound clips by programatically creating a new <audio> element for every sound, but every time I do that, the browser connects to the server and gives visible stutter. It may be possible to make it work smoothly by setting cache headers properly on the audio URLs. Another untested idea is to use data URLs instead of HTTP URLs.

Caching <audio> elements does not work. When you call the play function on the element, the sound does not always play. This is probably because there needs to be some time between every call to play for one element.
Considering my relatively relaxed attitude towards the competition, the game turned out pretty well. As always at the end of one of these competitions, I have lots of plans for how the game can be improved and that I should make a real polished game out of it.
I just know how that normally turns out. You know, there are so many other games to be made!
blog comments powered by

Disqus